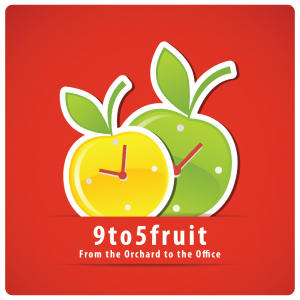 From the Orchard to the Office
Free My Time delivers mouth-watering assortments of handpicked fresh fruit straight to your Lincoln office every week.
A Very Fruitful Initiative
Providing fruit is an easy, low cost but highly beneficial way to enhance your existing wellness program, or simply to add an exciting new perk for your employees.
Increase Energy – Fruit has natural sugar which provides sustained energy to keep employees more energized, focused, and productive.  Beat the 3pm snooze at the desk.
Increase Staff Loyalty – Make your staff feel valued and appreciated.  We guarantee they will love having a free, convenient way to snack healthy.
Promote Wellness – A healthier staff means potentially lower health care costs, and less absenteeism.
How 9to5fruit Service Works
Your 9to5fruit crate contains an ever-changing variety of fresh, office-friendly fruits.  Our selection varies based on what's in season, as well as the quality and ripeness of what's available.  We will only deliver fruit that is in prime condition.
Your fruit is packed into one of our custom made crates on the morning it will be delivered.  Delivery is free and includes set up in your individual break areas as well.  We are more than happy to deliver to different floors or locations.  Most of our customers receive delivery once or twice per week on Monday and Wednesday.
Fruit Crate Options and Pricing
The standard sized selections above are ideal for small and medium size companies. If your company requires a larger or custom fruit crate order, please let us know. We're happy to work with you to determine the best fit for your needs and budget.Ordering Recommendations:  A good starting point is at least 2 pieces of fruit per employee per week.  e.g. if your company has 30 employees, start with one 30 piece crate delivered on Monday and another on Wednesday.
Account Setup
Once the decision has been made to commence with 9to5fruit service, a few basic contact and payment details are required from your company and then we're off.  No commitments. Pay as you go. It's that simple.
For more information please visit www.9to5fruit.com